I've designed a lot of wedding dresses in my career, but sometimes there are ones that just stick with you because the experience was so memorable. 
Alison Kahn Geiger's was one of those. 
Even though Ali was from Houston, we met virtually through our mutual friend Heather Staible. Ali works in L.A. as a stylist and she ended up pulling some gowns for her clients, including Myam Bialik. You know of Blossom and The Big Bang Theory...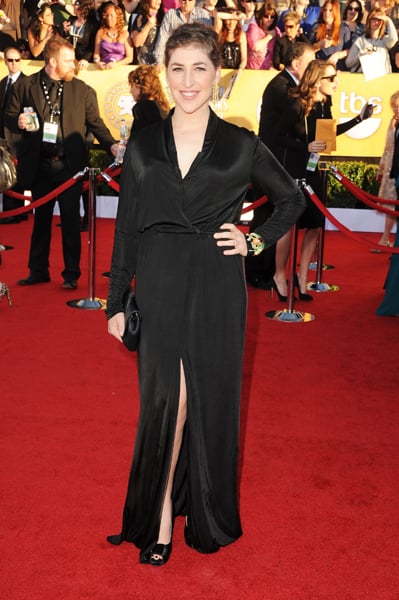 Mayim Bialik at the SAG Awards wearing David Peck
We actually never met in person before Ali asked if I could do her wedding dress. When we did finally meet (after the wedding), it was very quickly in a storeroom at the Houston Galleria. Such is the oh, so glamourous world of fashion.
Ali had a vision for what she wanted and I immediately got it. I loved that she wanted a no-frills, but glamourous dress for the ultimate California nuptials in Rancho Palo Verdes. It was perfect for her, her style, and the setting.
Q: How did you incorporate a family tradition or family heirloom to your special day? 
 A: I wrapped my grandmother'shandkerchief around the stems of my bouquet and also wore my othergrandmother's vintage watch.  It was lovely to have them both there. 
Q: How did you and your significant other meet and how did they propose? 
A:  We met on Match.com andthree years later got engaged by the "leopard duck" (that's what I called them because they had leopard spots) pond at Luxembourg gardens in Paris. 
Q: Did anything funny or chaotic happen on your wedding day? 
A: Only our parents and sisters were there and nothing was really coordinated, so not really.  World's simplest wedding. 
Q: What song was your first dance?  
A: We didn't have a first dance. 
Q: Where was your bachelorette party?
A: I didn't have one!
Q: What unique features did you include on the special day? 
A:  Ha!  Man I sound so boring! 
Q: What was your Virtual experience (measurements, muslin fitting)?
A:  Not knowing how this process could possibly work with me being in California, I called David (in a panic) hoping we could do this over the phone since we both spoke the same language (design). We discussed a design and the details I had hoped for, I gave him my measurements and he said he would send me a muslin to see how it looked. I was so impressed with the whole process because I only had a few weeks to get this dress designed and made, which he did!  
Q: What was your styling background at the time?
A:  This was only four years ago, so my styling experience was pretty extensive at the time. I had already worked for clients like Disney, American Idol, Fox. Additionally, I had about 15 personal clients that I worked with pretty consistently as a Personal Stylist and Shopping Concierge. I also have a degree in design which helped when trying to communicate my vision to David. 
Q: Do you think it is possible to have a personal design experience virtually?
 A: With someone like David, YES!  For example, He knew exactly what I meant about defining my waistline without having an exact waistline and knew exactly what fabric to use to achieve what I was looking for. The one thing I liked most is that he didn't make it what HE wanted me in or what HE wanted to design. He really listened and nailed it. With such experience like his, I would think a virtual experience could work for anyone.