I have always loved Halloween. Shocker, I'm sure. One of my favorite Halloweens was a party I threw when I lived in Paris themed Babes, Blondes, and Bimbos (Did you know that bimbo was originally a word that was used to describe a brutish, unintelligent man? #TheMoreYouKnow). Groups of friends dressed in theme together... Sailor Moon, Romy and Michele...
I dressed as Hansel from Zoolander (there's picture evidence of this somewhere) along with friends as other characters from the movie.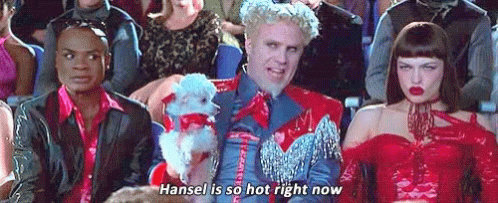 Since moving to Houston, I've come to realize that not only do people take Halloween seriously but that Black Tie Halloween is a THING. This year alone we are helping out several organizations with dressing their guests for their galas. We have partnered with both Ronald McDonald House for their Boo Ball and Arthritis Foundation for their Bone Bash!
Michelle and I at Arthritis Foundation Houston Bone Bash 2018
Black Tie Halloween can be super fun and the possibilities are endless. The main thing to remember is that it should be fun and perhaps err on the classier side of things. This is not the time to dress in one of those costume-in-a-bag-sexy-pirate-costumes. You want to think of interesting characters or smart subjects. It's not the occasion to use Halloween as an excuse to leave the house wearing less than you normally wear to the pool... I digress.
To help you get prepared, we've put together a few simple ideas that can be created rather easily with a few outfits that we had around the boutique. It doesn't have to be super complicated and you can still look classy and sassy for your next Halloween bash.
Betty Draper
I don't think that you can ever go wrong referencing Mad Men. The costume design is some of the best out there. On a side note, if you haven't read Tom & Lorenzo's Mad Style posts about the meaning behind the costumes... what have you been doing with your life?
Mesilla Dress | Pearl Necklace
Sharon Tate or Megan Draper, the Hollywood years
Sharon Tate is as relevant as ever since Margot Robbie's performance this year in Once Upon a Time in Hollywood. This new dress in the boutique fits the bill perfectly, but you could just as easly go with dark hair and channel Megan Draper in Hollywood. Fun fact, many Mad Men fans theorized that Megan was a stand-in for Sharon Tate based on some Easter Eggs in Mad Men.
Evans Gown | Christina Greene Pendant Necklace | Headscarf
Marilyn Monroe in Gentleman Prefer Blondes
You can never really go wrong with this look. Plus, who wouldn't mind dripping in diamonds (real or faux) The hair is the key to this look, so make sure your wig game is strong.
Elouise Gown | Opera Gloves | Lace Front Wig | "Diamond" Necklace
Holly Golightly
Another classic when you want to make sure you're appropriate. It's the accessories that make the look sing and once again don't skimp on the hair. I think that the signature bold blond streak is what tells you about who Holly really is.
Polilla Gown | Pearl Necklace | Opera Gloves
Cat Woman
You could take this costume to a place that is not suitable for young audiences, but I prefer a classier take on this look. You could just as easily be a cat burglar attending the gala for a high-stakes heist. 
CStyle Gown | Black Opera Gloves | Jessie Dugan Necklace | Christina Greene Necklace
Margo Tennenbaum
How could I not include my favorite Gwyneth character in this lineup? You will need a Lacoste polo neck dress, but it's the fur coat (I prefer faux) and the blond bob that defines this. Make sure you carry a pack of cigarettes (candy) in your Birkin. This also makes a great couples costume and it's great fun to make your significant other wear short shorts or a suit and sweatbands.
Full-Length Faux Sable | Lacoste Shirt Dress | Bass Loafer | Margot Wig
Cruella DeVille
Another costume that is simple to pull off with you have the right faux fur. You'll want to make sure you get the hair right. Your inspo can either be the original animated Cruella or my favorite version (at least until Emma Stone takes over the role in the soon to be released prequel), Glenn Close.
Black and White Wig | Pluto Dress | White Faux Mink | Cigarette Holder
Professor Minerva McGonagall
This Harry Potter character is as easy as magic! 
Queen of the Night
This costume is inspired by Houston Grand Opera's newest production of The Magic Flute. It's a perfect excuse to show off our Queen of the night clutch and who wouldn't want to wear a crown???
Chrysanthemum Gown | Queen of the Night Clutch | Crown