Welcome to a brand new series that I'm calling Peck University, or #PeckU. Why, you ask, is this necessary? It's because there are a many questions that come up when we meet with clients that seem to be either misconceptions or things that people genuinely don't know about how clothes are made.
I want this series to be fun and of course, I hope you'll learn something from it too! If you have any burning questions that you think would make a great #PeckU topic, let me know! We may just address it in a future post!
Ok, Class, today's topic is illusion. 
-----------
illusion noun
il·​lu·​sion | \ i-ˈlü-zhən 
And there we have the issue in the first definition of the word. We often get clients, especially brides, who bring in inspiration photos for a custom gown that magically seem to stay on the body with no visible construction. These marvelous images seem to indicate that it's possible to cover up all the bits that you want to cover without any apparent support. 
While these dresses seem to defy the laws of physics, I have to break it to you. They aren't real. They are ILLUSIONS!
What?!?!? An image living on the internet isn't telling the whole truth? Say it isn't so!
"Abracadabra" and in Great Houdini fashion, for our next disappearing act, let's talk illusion mesh. The fabric that every bride/custom client seems to hate, but needs to make her dress dreams come true. I hate to break it to you, but you can't have a plunging black dress and a snatched waist without it. 
Illusion mesh is exactly what it sounds like. It's a very light but strong mesh that is matched to your skin tone to give the illusion that there is nothing there. Let me break it to you. Most of the time when you see a dress with illusion, the image has been photoshopped so that the edges of the illusion mesh disappear or the lighting is such that you can't see where the mesh ends and the skin starts.
When I bring illusion mesh up to clients, they usually firmly state that they don't want it. Why? Illusion mesh probably gets a bad rap because when you think of it, you are probably imagining an 90's figure skating costume...
Let me tell you, Illusion has come a long way. Even JLo is not above using the powers of illusion.
Take a closer look and you'll start to see how the "magic" is made. Though the mesh is skin toned, from far away it is nearly undetectable.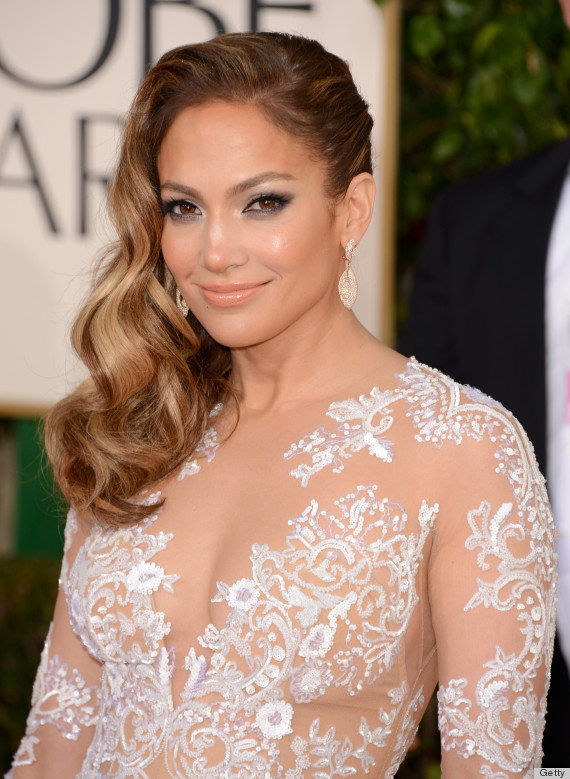 She's not really naked and that dress isn't magically staying on her body. Everything is strategically placed so that everything stays in place and nothing is accidentally revealed. Wardrobe malfunctions are so last season.
Now that you see it, you can't unsee it. You'll notice it everywhere and it's not just on cheap prom dresses. It's EVERYWHERE. It's even used in haute couture. 
When clients want the look without the mesh, my first thought is to ask them if they are really asking for is a wardrobe malfunction because they are secretly an exhibitionist... but that would be rude.
Eliminating the mesh makes construction nearly impossible. There are definitely ways to have cut outs or plunging necklines without using mesh, but we can never fully replicate the nearly naked look if it's completely eliminated.  
There you have it. A full exposé if you will on illusion. You can still not want it in your wedding gown. Totally your judgment call. Just don't expect to get the same effect without it. 
We are more than happy to walk you through different options and design changes that can help you achieve a look you love, whether you want illusion or not. That's a part of the design process that we walk you through during a design consultation. To book an appointment, CLICK HERE!