With the holiday season is approaching (where did the time go?), many clients have been asking me what gifts to get for their loved ones. I wouldn't say that I'm a oenophile, however, but what I am an expert in is gift giving! 
I have consumed a lot of wine, so I definitely know what's good! (Check out my top 9 wines blog here for a quick review on my top wines if you want to give the gift of wine, or pair it with one of the items below)
The problem with gift giving is that it feels like everyone has everything. Fear not though, for I will guide you and give you a list of gifts that are sure to be loved! As you know (if not, now you know!), we only carry products that fit our criteria of minority owned, woman owned, or local stores, so everything listed here will be unique! 
1. Wine Puzzle | Water & Wines
Entertaining and educational, it's not hard to see why our jigsaw wine puzzles from Water & Wines instantly became a best seller and a client favorite! Each puzzle contains 1000 pieces, so instead of going out for your thirsty Thursdays fun, sit down and relax with a cup of "coffee"... Well, maybe coffee for the kids if you're doing it with them, go get that glass of wine for the adults! (You could even maybe pour it in a Vinglacé Stemless Wine Glass?)
I've loved doing puzzles since I was a kid! My grandparents always had one going, especially during the holidays. There's something that's just therapeutic about sitting down and putting together the pieces, especially the momentum that you build up as you get more and more pieces put together! I'd say a puzzle is similar to starting a business in the sense that the initial start is usually pretty slow, but as you keep going and building momentum, you get to see the progression and the fruits of your labor! 
The best part of these puzzles (besides the fun puzzle image)? The puzzle boxes list things such as the ingredients for the wine, and what foods would go best with the wines listed!

(Above image is the back of the Italy box!)
It's great to know that if I decided to try the Syrah wine, with notes of black fruit, blackberry, black pepper, violet, and liquorice that pairing it with blue cheese and chocolate with dried cranberries as it recommended on the box resulted me in having a fantastic snack and drink combination! It's honestly a great home evening activity to do with the family, or something to do just to relax after a long day!
Currently, we carry puzzles for Italy, France, California, Scotland, and Spain (Champagne is soon to come)! The wine puzzle makes a great gift for any wine lover or puzzle lover and is sure to be a great unique gift to give!
Each puzzle is initially drawn by hand, and then each piece is reviewed one by one to make sure everything is of quality! Water and Wines has pledged to plant one tree for every one puzzle sold and has also pledged to donate a percentage of their revenue every month to charity water!
2. The Mixology of Astrology: Cosmic Cocktail Recipes for Every Sign | Aliza Kelly Faragher
If you regularly check your horoscope to learn more about your love languages, financial outlook, and/or career prospects, this is the perfect book. Because horoscopes can apply to libations too!
While this book mainly has cocktails, it also has wine recipes! Tailor your drink of choice to your zodiac sign for a true sense of harmony. 
Each of of the twelve signs has their own detailed section. You can sit back with a tried-and-true cocktail staple, or you indulge in a guilty pleasure. This book has over 200 recipes that range from classics, to new and adventurous mixed drinks!
Some of our staff favorites include the Yaka Hula Hickey Dula (for Cancers), the Fuzzy Naval (for Geminis), and the White Wine Spritzers (for Leos). My personal favorite being a Capricorn is the Vesper! (Fun fact about the Vesper, it was actually invented by the James Bond novel, Casino Royale, back in 1953!)
Every cocktail recipe features a short history of the drink that connects the cocktail to its corresponding zodiac sign. By learning more about your spirits (see what I did there), you can learn more about yourself! This is followed by a detailed recipe with a bulleted list of ingredients and a paragraph of written instructions, so it's super easy to follow.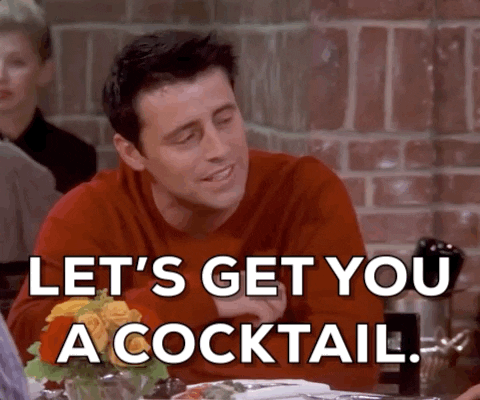 To really get creative, try making drinks for your moon sign, your rising sign, and even your Venus sign! After all, no two signs (or drinks) are alike. Upgrade your thirsty Thursdays, and enjoy your cocktails as the zodiac intended. Speaking of thirsty Thursdays, it's been a while since we've made a thirsty Thursday post... I definitely have to get on that...
If you want more astrology gifts, be sure to check out our adorable Tiny Zodiac Medallions from Amano Studio! Amano Studio is a small, woman owned jewelry brand and production studio based in Sonoma California in the Valley of the Moon. They draw inspiration from vintage fashion, the night sky and the beauty of the California landscape. With each piece assembled by hand using materials sourced from US craftspeople and manufacturers, their pieces make a thoughtful gift for anybody! A brand for "the people", Amano Studios has achieved a ZERO WASTE production operation by using recycled metals, as well as using vintage salvage components in their products.
I've talked about Tart by Taylor before in a previous blog, "Gotta Have It | Tart by Taylor", when we first started selling her products. With how much I talk about her products, you can probably guess that I absolutely LOVE everything she makes! If you haven't already seen her trays, be sure to check them out! She makes large trays and small trays in a variety of styles that all just exude fun and colorful energy!
When I drink out of stemless glasses, finding a place to set my cup down can be a struggle. I don't want to ruin my tables or countertops by setting my drink down (I spent weeks finding the perfect table to match the interior of my house), but continuing to hold it warms up the wine, yuck. These colorful coasters protect any surface from water damage, allowing me to drink any chilled beverage in peace.
Each coaster features a fun and exciting design. Whether you prefer graphic text, quirky resin creations, blue and white chinoiserie, or college football towns, each style just super fun and sure to add life to any party. Since each coaster is sold separately, you can buy a cohesive set or mix and match! Be sure to check out all the styles we have here!
The five available designs are all vibrantly decorated, adding a pop of color to even the plainest of furniture. And the resin coastersare handmade, so they make the perfect thoughtful gift for anyone who wants something unique and fun!
For those Longhorns, Aggies, Horned Frogs, and Tigers (current students or alumnis), we have special coasters for you! Check out our kickoff coasters here! Show off your school pride and have the perfect coaster for when you get together to watch the football game! 
Tarts by Taylor (Taylor + Art = Tart!!) was founded by Taylor who has her business open in Dallas! Taylor started her business during the pandemic and ended up making a career out of her crafts to this day (and I could not be happier I love her products)! 
4. Vinglacé Wine Bottle Insulator
If you've visited our store before and shopped around, chances are you've probably seen a couple of Vinglacé products in our store. There's a reason for that, I absolutely LOVE Vinglacé products (you might notice multiple Vinglacé products on this list)!
Why keep individual glasses chilled when you can chill the whole bottle? Or better yet, why not chill both? One of my biggest pet peeves is drinking lukewarm moscatos, roses, or whites. Even if you're a slow sipper, everyone deserves chilled wine. And this wine insulator does just that. 
A wine fridge is great at home, but what about transporting alcohol long distances? Or outside events? This bottle insulator is a built-in travel wine refrigerator! Made of stainless steel, double-walled, and vacuum insulated, this is a one-stop-shop for keeping any bottle cool for hours, no fridge required. 
But what about unique bottle shapes? Never fear! This insulator features adjustable top screws to fit most bottle sizes to make it super flexible in what it can chill. You can pack your wine, champagne, and sparkling water on the go without worry, it's honestly amazing and I love using it for our company excursions! 
And this insulator comes in SIX different colors (Rose Gold, Black, Sea Glass, White, Copper, Navy). These various colors can help you keep track of different bottles, avoiding mixups. 
5. Tart By Taylor Champagne Flute
Some of the newest products in our store are the Rosé All Day and Pop theBubbly champagne flutes!
Portable and chic, these plastic champagne flutes are the perfect stemmed cup to bring along and use for any event. Got a picnic to go to? Perfect. Want to stay at home and need a cute cup to sip on while you binge the next Netflix show on your list of shows to watch? Even more perfect! 
The durability of the plastic is great for outdoor events like picnics and pool parties. Especially if people are barefoot, it's great to not have to worry about broken glass. These plastic champagne glasses are sturdy and shatterproof, so you can walk around stress-free.
There you have it, the top 5 gifts for wine lovers! We added a gift section here (will add hyperlink to the collection when everything is ready) with all the items talked about in this blog as well.